What is the Intuit QuickBooks Web Connector?
The Intuit QuickBooks Web Connector is a Windows application developed by Intuit that allows data exchange with QuickBooks POS. QuickBooks POS specifically supports syncing with v2.1.0.30 of the Web Connector.
Since QuickBooks POS doesn't have a standard API to use for integrations, MyWorks Sync uses a combination of our helper Wordpress plugin + the Intuit Web Connector to sync data. For more information on how our sync works, read our article here.
Although we detail how to setup the QuickBooks Web Connector in our installation instructions here, the purpose of this article is to clarify and recommend everyday use practices for using the QuickBooks Web Connector with our syncing solution.
Initial Use / Setup
After setting up our sync on your site by installing our helper plugin, you'll download a QWC (connection) file from MyWorks Sync > Connection in our sync in your WooCommerce admin area. Once downloaded, you can double click this QWC file to open it in your web connector and connect to your QuickBooks company.
Tip: Right-click the QuickBooks Web Connector icon in your Windows task bar to pin it to the task bar for easy future access!
Running the Web Connector
1. You can open the Web Connector by searching for "Web Connector" in your Windows start menu.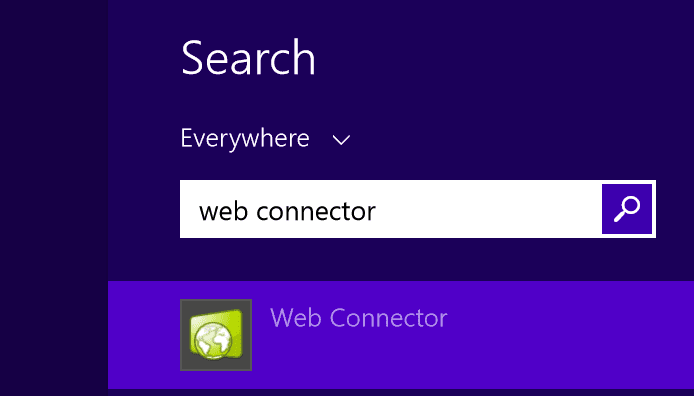 2. Once it is opened, the sync can be run by checking the box next to your company name, and then clicking "Update Selected".
3. Clicking Update Selected, as shown above, will run the sync as often as you click this button. If a more automatic sync schedule is preferred, the AutoRun feature is very helpful to support this. For example, once the "AutoRun" box is checked, you may select a per-minute value next to it, and the Web Connector will automatically run this schedule. This does require the Web Connector application to remain open.
Every time the web connector runs, we will sync data for any activity that's occurred since the last time it was run.